COVENT KID Syrup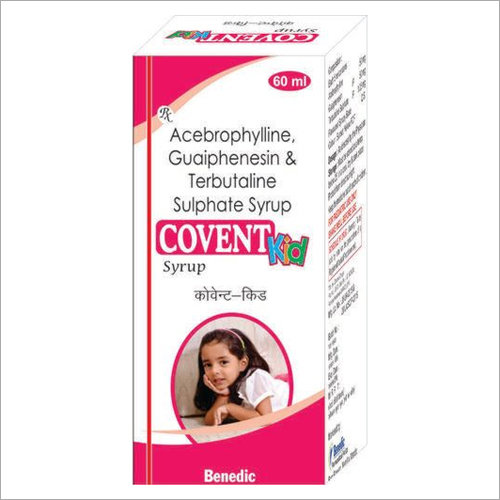 COVENT KID Syrup
Price And Quantity
Bottle/Bottles

17.00 - 20.00 INR
Product Description
Covent Kid Syrup is specifically formulated to be prescribed for treating cough & cold in children. It comprises terbutaline which is considered as selective beta-2 adrenergic agent that causes bronchodilation with anti-allergic properties. Ambroxol present in this syrup acts as expectorant which increases mucous secretion by stimulating mucous membrane of bronchial tubes. Covent Kid Syrup gets rapidly absorbed after administration and has elimination half life of around 1.3 hours. It also contains guaiphenesin which possesses expectorant property and menthol that exerts cooling effect on throat. With its mucokinetic & secretolytic properties, it helps in improving mucous transport & liquefying secretions.
Terbutaline 1.25mg + Acebrophylline 50mg + Guaifenesin 50mg Syrup
Pharmacology:
COVENT-KID Syrup is used in the treatment, control, prevention, & improvement of the following diseases, conditions and symptoms:
Asthma
Reversible airway obstructive diseases
Chronic obstructive pulmonary disease
Cough
Chest congestion.
COVENT-KID contains the salts:
Acebrophylline,
Guaifenesin,
Terbutaline as active ingredients.
Terbutaline:
Terbutaline is used to treat wheezing, shortness of breath, coughing, and chest tightness caused by asthma and chronic obstructive pulmonary disease (COPD; a group of lung diseases that includes chronic bronchitis and emphysema). It may also be used in premature labor.
How it works?
Terbutaline belongs to a class of medications called beta agonists. It works by relaxing and opening the airways, making it easier to breathe.
Acebrophylline:
Acebrophylline is used to treat chronic obstructive pulmonary disease (COPD) and asthma. Patients suffering from these diseases may have symptoms of inflammation of lungs which leads to mucus production, cough, difficulty in breathing, tightness in chest etc.
How it works?
Acebrophylline, a xanthine derivative, belongs to a class of medication called bronchodilators. It blocks the intracellular enzyme (phosphodiesterases) followed by increase in level of messenger known as cyclic adenosine monophosphate, which promotes relaxation of bronchial muscles. It inhibits the release of certain inflammatory chemicals (leukotrienes, tumor necrosis factor etc) in the lungs thereby reducing inflammation. It also reduces thickness of the mucus, thus making it easy for the patient to clear the mucus load.
Guaifenesin:
Guaifenesin is used to relieve cough and chest congestion.
How it works?
Guaifenesin belongs to a class of agents called expectorants. It works by thinning the mucus in the air passages to make it easier to cough up the mucus and clear the airways.
Specifications :
Product Details: Product Details: Acebrophylline & Guaifenesin & Terbutaline Sulphate Syrup .
Trade Name: COVENT-KID Syrup.
Packing: 1x60ml Pet Bottle with Mono Carton.
Therapeutic use: Anti Allergic Cough Syrup.
Other Information :
Pay Mode Terms: L/C (Letter of Credit), D/A (Documents Against Acceptance), D/P (Documents Against Payment), T/T (Bank Transfer), Other
Minimum Order Quantity: 10 Pack
Port of Dispatch: Haridwar, India
Delivery Time: Prompt
Contact Us
Plot No. 88, Sector IIDC, Sidcul, Haridwar, Uttarakhand, 249403, India
Phone :+918037303760